I must confess that until I went over to Mel's blog, I forgot about the homework she gave us. So, I went back and my favorite Show & Tell post over the past year was
the one about my parents
. Go check it out if you have a moment. The current Show & Tell is below.
And oops again, I missed the part that we were suppose to pick somebody else's post. Sorry.
****************************************

Back
on 5/7, I posted
about how the only downside to an otherwise wonderful week was that Joey's cat was still missing. It that point, he had been gone for at least a week.
Last Saturday, approximately 2 1/2 weeks from when he first went missing, Max returned. Actually, I found him. I had just gotten home from dropping Joey off at a friend's house for a sleepover. As I pulled into the driveway, I saw Snoopy (our other kitty...the laid back non alpha-cat)off to the side of our driveway. So, when I got out, I called to him. As soon as I did that, a very loud meowing started across the street. It was Max. I'd recognize that meow anywhere. I looked over but didn't see him. Given where the meow was coming from, he was in one of two yards...the wide open one or the jungle. The jungle is behind a house owned by a horticulture professor and there are all sorts of gorgeous plants FILLING the yard. As I headed across the street, Snoopy, who had no interest in going inside, followed me. I started wondering if he hadn't been keeping Max away from the house as payback for Max being a total buttwipe towards him in the house. Of course, once I got across the street, I realized the meowing was coming from the middle of the jungle back yard.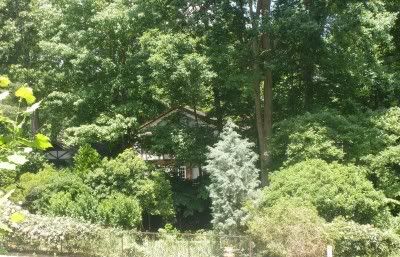 So, despite the fact I was hot and sweaty and looking like crap from spending the evening moving one fridge out of our house and the new (to us) fridge in, I went and knocked on our neighbor's door and asked if I could go look for my cat in their backyard. It was pitch black in their backyard because the street lights didn't penetrate the jungle and I was afraid to go get a flashlight because Snoopy was still following me and I thought he would chase Max off if I Went inside. It took nearly 20 minutes of searching through a pitch black backyard for a black cat who didn't want to come out from the underbrush because Snoopy was there. I followed his meows until I got close enough to catch glimpses of him and I FOUND HIM. I was even hotter and grimier and just a bit out of breath (the humidity and something in that backyard were aggravating my asthma) but it was all worth it when I saw how glad everyone (even our dog Jack) was to see Max. It was pretty damned cool feeling like Joey's hero for finding his cat.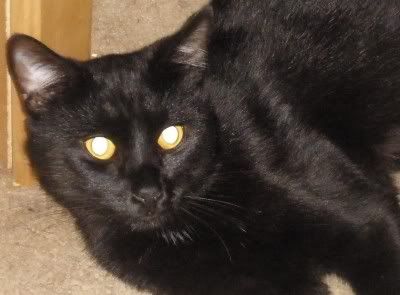 ****************************************


To see what everyone else in class is bringing to
SHOW AND TELL
, take a trip to visit the
Miss Mel, Goddess of the Infertility Blogosphere
.

****************************************
And, don't forget to go by
my Etsy shop
and buy a hat to support the Liz Logelin Foundation. All the details can be found in
this previous Show & Tell post
.