Until today, my oldest two children had a truly obscene amount of stuffed animals while Gabe only had a thoroughly ridiculous amount. Well, Marty truly must be growing up...
*sniff*sniff*
...because he announced that with a few exceptions, he wanted to get rid of his menagerie. His loss will be your gain because I'm holding the Great Stuffed Animal Giveaway as a way to complete the Great Stuffed Animal Exodus. The winners will receive their goodies over the next month or two as shipping funds are available.
All you have to do to enter is comment here (and make sure I have a way to get your email address). You can pick up another entry by following me on twitter and commenting here to tell me you did (this should be a different comment that your original entry). You can get a third entry by commenting a third time and telling me which group you want and why. BTW, if you win and want to, you can designate another recipient for the stuffed animals.
This is a stellar opportunity for parents and infertiles alike. Parents get goodies for their kids and Infertiles get baby shower gifts they NEVER have to shop for. All stuffed animals are clean but loved. Let the Giveaway Exodus begin.
Scrappy Doo and Garfield
The fishies...small ones are 8 inches long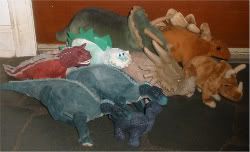 For the dinosaur lover
Pooh, his heffalump, 2 Tiggers, & Eeyore
Lots o' little ones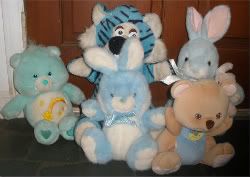 The Care Bear and the Night Time Sounds bear are electronic and they do work.
Halloween plus a few
Sesame Street plus Blues Clues...Ernie sings Rubber Duckie, the right
hand Elmo says "Elmo Loves You, and Grover Rocks and Rolls.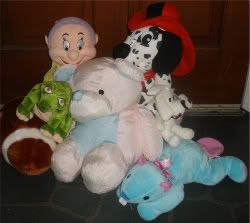 The Random Remainder
****************************************
To see what everyone else in class is bringing to
SHOW AND TELL
, take a trip to visit the
Miss Mel, Goddess of the Infertility Blogosphere
.

****************************************
And, don't forget to go by
my Etsy shop
and buy a hat to support the Liz Logelin Foundation. All the details can be found in
this previous Show & Tell post
.
****************************************
Finally, to help
Kym
and all future Sock-It-To-Me participants, I am going to set up a sock site database. It will probably just be in a post here but the info will be available to all. Please
EMAIL ME
(yes, use that link...not any other email address you have for me...using this link will keep all the emails together) and give me a link to the site you bought the socks from and any review of the site you might have.