My mom was such a cool mom while I was growing up and she is an equally cool grandma to my kids. She was the mom who didn't freak out when a gingerbread house building turned into a frosting fight at a birthday party of mine. And, she was the mom who let me invite all 12 girls in my 2nd grade class to a sleepover (and, yes, they all came). You seen her playing with "volcanoes" with Gabe and this week you get another treat. You get to her an original Karin O'Donnell song. Many years ago, my niece went through a stage where she wanted you to sing with her whenever you took her on a long car trip. However, it couldn't be any random song. Bri would want you to sing the same song over and over and over again for the whole car trip. One day, my mom and dad were making the then 2 hour drive to our house and Bri had her singing Twinkle Twinkle Little Star. Well, about halfway there, my mom snapped and started singing this version of it...
Twinkle twinkle little bat
How I wonder where you're at?
Did you pee pee in my eye?
Did you poot in the sky?
Twinkle twinkle little bat
Give me back my furry hat!

I was able to get it on video for you because I told her that was the only way I would let her teach it to Gabe.
****************************************
I also wanted to share the gorgeous present my friend Henny brought me when she came for her surprise visit. Click on the picture so you can see a close up. It is amazing.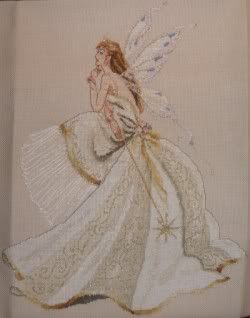 ****************************************
To see what everyone else in class is bringing to
SHOW AND TELL
, take a trip to visit the
Miss Mel, Goddess of the Infertility Blogosphere
.

****************************************
And, don't forget to go by
my Etsy shop
and buy a hat to support the Liz Logelin Foundation. All the details can be found in
this previous Show & Tell post
.
****************************************
Finally, to help
Kym
and all future Sock-It-To-Me participants, I am going to set up a sock site database. It will probably just be in a post here but the info will be available to all. Please
EMAIL ME
(yes, use that link...not any other email address you have for me...using this link will keep all the emails together) and give me a link to the site you bought the socks from and any review of the site you might have.