It has been an amazing and mostly wonderful week. On
Sunday
, I finished my gift for my
OMG You Rock Day
partner. Isn't it lovely...
Bwahahaha...you didn't really think I would post a good picture of it before she even opens it, did you?
Then, I decided to briefly check my email before bed and I found out that a friend from high school I had been looking for found me through Facebook!!! Yay!!! She got married shortly after high school and I couldn't remember her married name so I had no way to track her. Facebook ROCKS!
On
Monday
, I had plans to have my friend Susan from the
Cross Stitch Crazy board
. She is also good friends with
Henny, my friend who lost her husband suddenly last year
. Last year, Henny told us her friend Dickey would be visiting the states and wanted to know if we could meet up with her. Of course Susan and I both said yes. Well, it turned out that Dickey stayed with Susan for a few days. I was so excited to get to meet them both (Susan and I hadn't met before despite talking on the phone many times). Well, about 5 minutes after Susan and Dickey got here, Dickey announced that she had to get something out of the car for me. I was clueless. I thought maybe Henny had sent me something. But, Dickey walked back in with HENNY. OMG was I floored. Henny is the sweetest, kindest , most wonderful person and I actually got to meet her!!! And, Dickey got it all on video. I wonder what my face looked like at that moment. I don't have video but I did get some good pictures (each one is clickable to see larger image)...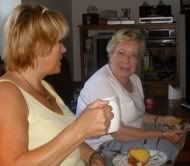 Dickey and Henny

&

Gabe (in back) reading to them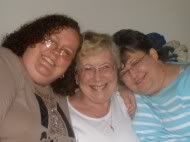 Me and Susan

&

Me, Henny, and Susan
Gabe playing with Henny

&

Was the camera attached?
On
Tuesday
, I started an afghan for my cousin's first baby who was due any day and I found out that she gave birth to a healthy baby boy that same day. I'm so glad she avoided all the complications both my aunt and I have been through.
On
Wednesday
, I scored that gorgeous yarn but I also got my boys registered for some
summer programs sponsored by the Town of Cary
. The town offers scholarships to families that need them and we qualified. Marty is registered for the Cary Space Academy (pg15 of link) and Civil War Experience:A Soldier's Life (pg 10 of link). And, Joey is registered for a BMX Skateboard camp (pg19) and the RailHawk's Beginner Soccer Camp (pg23...the RailHawk's are the local pro team). Marty's camps are both full day events and Joey's are both half day. For all this wonderful fun, our out of pocket expense is going to be less than $100.
We also scored free dinner at KFC on Wednesday due to the
Unthink KFC promotion
. Oprah promoted this on her show the day before and OMG were the lines unbelievable. Luckily, despite running out of grilled chicken and having to put more on, our KFC honored the coupon with whatever chicken they had available. With the exception of one rude ass clown, everyone was surprisingly even tempered given the almost hour wait.
And, today,
Thursday
, my wonderful friend
Tanyetta is having her baby
!
The only down side to everything is that Joey's kitty Max is missing...sort of. Max has recently been neutered and had started to go outside some. He had even stayed outside once or twice without issue. However, he went out about 5 days ago and hasn't come back in. During that time, I have seen him (last time was 2 days ago) but, by the time I got to the door to let him in, he was gone again. Poor Joey is really upset and I keep blaming myself for not trying harder to get him back in that first or second night. We are going to make signs to put up around the neighborhood. Please keep Joey and little Maxie in your thoughts.