Many months ago, I was reading my friend
Dora's blog
and innocently followed a link she had in her post. Little did I know how much it was going to affect me. You see, the blog she linked to was Matt Logelin's blog
matt, liz and madeline
. This blog is the phenomenal story of a man who hit the highest of highs and the lowest of lows all within 27 hours. On March 24, 2008, Matt and Liz's daughter Madeline was born. She arrived early but healthy and strong. 27 hours later, Liz died and Matt had to say good-bye to his partner, his love, his wife. I don't know about you but I think I would have crumpled up and found a dark place to hide in if that had happened to me. But, no way. That isn't what Matt did at all. He kept writing...and all the pain, all the anguish, and all the joy of raising his daughter on his own started a groundswell of support that threatened to overwhelm him. When it got to the point that Matt had all the physical needs of Madeline covered, he channeled people's support towards other worthy causes. Matt joined singlemindedwomen.com in supporting
MyStuffBags
which provides "provides clothing, toys and necessary items for abused, neglected and abandoned children." And, people kept asking how they could help. So Matt and his friends founded
"The Liz Logelin Foundation"
whose stated mission is to "assist families who find themselves in the heartbreaking, catastrophic situation of having lost a spouse, life-partner, and parent."
Fast forward to a couple of weeks ago. Once again, Dora decided to change my life...LOL. She contacted me because she had a friend who had a bunch of crocheted hats that we could sell to raise money for the Liz Logelin Foundation. However, her friend wasn't able to handle the selling herself. Dora asked if I would be able to take over the selling. Of course, I had to say yes. I got the box of hats last week and have set up an Etsy store to sell them. If you want to buy one of these scrumptious hats...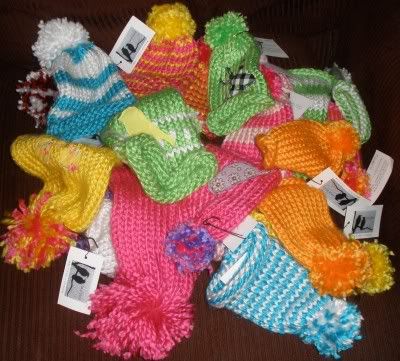 head on over to my
etsy store
and buy one. All the proceeds are going to The Liz Logelin Foundation so you can get a fabulous hat and feel good about yourself. There are
3
1 adult hat (only $16 down from $25), 3 toddler hats (only $12 down from $20), and
15
13 baby hats (only $8 down from $15). My mom bought some ...yay. Go on...spend some money...and do it for the love of Liz.
To see what everyone else in class is bringing to
SHOW AND TELL
, take a trip to visit the
Miss Mel, Goddess of the Infertility Blogosphere
.