What those of you who don't live in the South may not understand is just how seriously we take our college sports. In North Carolina, college basketball is king! When the ACC tournament starts, tvs creep into the work place and sometimes even the classroom. And, when some of our teams make it to the NCAA tournament, the celebration starts!
Today, I am yawning and rubbing my eyes because, despite being sick, I had to stay up and watch the Duke vs. Binghamton game last night.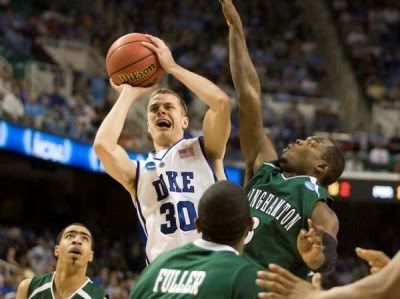 photo courtesy of Duke Photography
Duke won
last night beating Binghamton 86-62. Unfortunately, the much hated
Tarholes
also advanced in the tournament.