Welcome to the new edition of Show & Tell blogger style hosted by wonderful and fabulous Suzy at
not a fertile myrtle
. I decided to entertain y'all this week with a bit of the ridiculousness that goes on around here on a regular basis.
If you are a long time reader, you'll probably remember that I told you that my boys are not quiet sleepers. Not only do they talk, argue, sometimes yell, and even sing in their sleep, but they are also physically active in their sleep. You truly never know what position you will find them in when you go in to wake them in the morning. And, one time when Marty and Joey were really little, they were sharing a bed because we had company and one of them pushed the other out of bed while they were sleeping. Gabe seems to have continued that tradition. Yesterday, I stripped his bed because it was time to wash his sheets. I didn't quite get them dry before bedtime so I let him put a sleeping bag on his bed. Not only did he get out of the sleeping bag while he was asleep but he totally changed positions on the bed. This is how I found him when I went in to wake him for school this morning...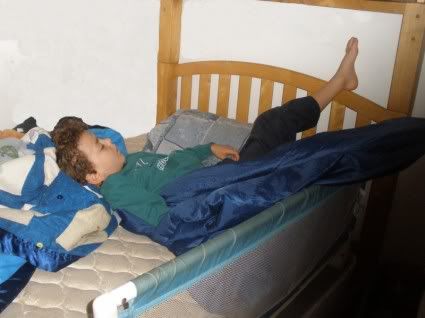 Head on over to Suzy's to
check out the other Show & Tell entries
this week.