Lori over at
Weebles Wobblog
(soon to be Write Mind / Open Heart...read the reason here)
says that "
Perfect Moment Monday
is more about noticing a perfect moment than about creating one. Perfect moments can be momentous or ordinary or somewhere in between." Even though Lori is temporarily taking a break from Perfect Moment Monday due to her blog overhaul, it's still important to notice them.
This weekend we had family movie night on Saturday and we gave the kids free rein to pick a movie from Netflix (I freakin' love Netflix instant streaming). My kids made me so proud when they picked
The Bugs Bunny Road Runner Movie
. Do you know what was even better than them picking a cartoon movie that brings back memories of my childhood Saturdays? The best part was watching them laugh and cackle and snicker at all the things I found funny when I was their age...and, watching and listening to Joey watch something he finds funny is so much like watching Vic. It was all pretty perfect to me.
******************************
Btw, I've signed up for NaBloPoMo. Who wants to join me?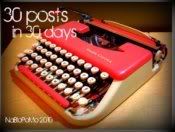 You can get this nifty little badge over at
Suzy's blog
.