I promised pictures from this weekend and here they are. For the family birthday party, Joey wanted a cake with a Trojan helmet on it. So, I found a picture of a Trojan helmet...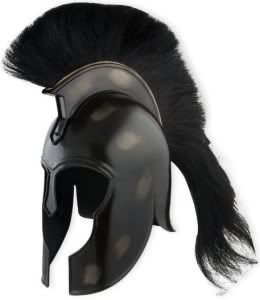 and, I did my best to replicate it. It wasn't great but, Joey had requested a non-buttercream frosting and it was much harder to work with.
and, for his birthday party with his friends, I made a cake with a sword and did the Greek alphabet around it. Once again, I was working with that other frosting and it was much more difficult to make things neat.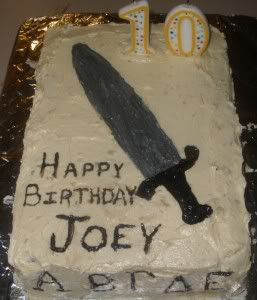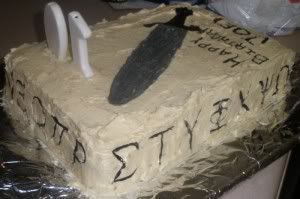 We also had Joey's Space Derby for Cub Scouts this weekend. We had both been slack and hadn't started making the rocket until Friday evening for a derby that started at 9:30 Saturday morning. Since his Cub Scout pack collects pop tops to donate to the Ronald McDonald House, we decided to decorate his ship with pop tops.
Joey placed 3rd in the Most Unique category. I think he and I did a pretty good job considering what a rush job it was.
And, tomorrow when my brain will hopefully be working better, I'm going to write my Happy Anniversary post. I know it will go up 1 day late but it's the best I can do.