Joey's little kitten, Butterball, has settled right in and he fits in with the crowd. He likes to watch video games...
He tried to steal Gabe's chili from right out of his dinner bowl. And, he's already staked claim on a bed...
Hehehehehe, Butterball's kitty bed supports a variety of sleep positions too.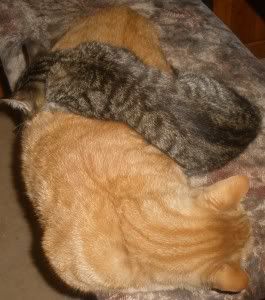 It's a good thing Freddy is as mild mannered as he is because Butterball has adopted him and feels perfectly at ease in following him and climbing all over him.
Joey is doing better but we are still having moments when the loss of his Max hits him hard. It's nice to know my boy can love so deeply but it sucks seeing him in pain.