Welcome to the next edition of Stitching Post Saturday. I don't have nearly as much to share because my stitching mojo has taken a bit of a break this week. So, in addition to sharing the tiny bit of stitching I've gotten done, I am going to share the two little cross stitch patterns I designed.
I designed these two pieces, a race horse and the Romanian flag for MiPa's All About Me RR. This RR is exactly what it says. You stitch small motifs that represent something about the person it belongs to. You can click on both patterns to see a close up of them.
This is what I have stitched of the racehorse design so far.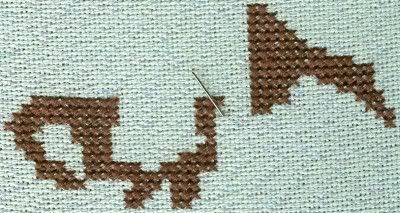 Check out what everyone else has been up to...
Stitching Post Saturday
on
MiPa's blog
.