Today's the day for stories, gadgets, and tricks.
Do you have a favorite pot to cook in? I actually have two pots I adore.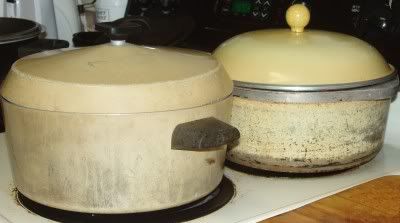 You are probably looking at both these pots and wondering what is so special. They both are decent pots and cook things fairly well. Both pots have been around for ages. The pot toward the back is over 30 years old. The pot towards the back is a bit newer but not by a whole lot. Both pots have cooked meals that have nourished peoples bodies and provided meals that gave families time together to nourish their souls. These are the pots that Vic and I affectionately refer to as our ghost pots. See, the one towards the front had belonged to my grandma and the one towards the back belonged to my FIL. We inherited them after our families lost both of these wonderful people and cooking in them is a way to stay connected to our past. I hope I can keep using these pots for a long time to come and I hope my family is as nourished by what comes from these pots.
Now, onto the gadget part of show and tell. This is my all time favorite kitchen gadget.
My kids and I adore fresh pineapple but, frankly, without this gadget, they are a pain in the ass to peel and core. All you have to do is slice off the top of the pineapple, center this gadget over the pineapple, and twist. The pineapple is literally ready in minutes. I got mine as a gift years ago (thank you Lynn) and you can buy this fun toy at
William Sonoma
.What is your favorite kitchen gadget?
Finally, a kitchen trick I learned about last week.You know how the rolls of cling wrap, wax paper, and aluminum foil fall out or don't stay in place when you are trying to pull out a piece. Well, there is a solution to that. Every one of those rectangular boxes that contain cling wrap, aluminum foil, or wax paper has little tabs on each end of the box. When you push the tabs in, they act to hold the center tube in place. This means you can pull off the amount you need without having to hold the roll in place while you do it.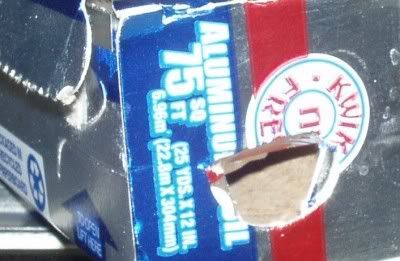 To see what everyone else in class is bringing to
SHOW AND TELL
, take a trip to visit the
Goddess of the Infertility Blogosphere
.