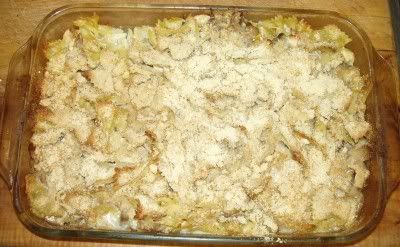 After Christmas, I was faced with the yearly dilemma..."What do I do with the leftover turkey?" Usually, I make turkey soup but I had made a TON of turkey soup and had 4 one gallon bags of soup frozen. I decided to make turkey tetrazzini and went hunting for a recipe. All the recipes I found were either way too simple or way, way too complex (Sorry, with kids around, I don't have the time or energy to try to scald cream properly). So, I printed out 4 recipes and picked and chose what I wanted from them. I must have done well because I didn't have any leftovers the two times I served it (I froze one pan of it). Here is what I came up with...

Turkey Tetrazzini a la Cruz
(makes two 9 x 13 pans)
Ingredients
8 cups of turkey, cooked (shredded, cut into chunks, whatever)
1/2 tsp pepper
1 tsp salt
1 1/2 tsp parsley
1 tsp thyme
1 1/2 tsp garlic powder
1 medium onion diced
1 cup minced celery (usually 5 or 6 stalks)
14 oz mushrooms (1 lg can, 1 small can)
3 10 3/4 oz cans of cream of mushroom soup
3 14 oz cans of chicken broth
1/2 cup white wine
1/2 cup shredded parmesan
2 boxes farfalle (bowtie) noodles cooked
for topping - 1 cup bread crumbs, 1 cup shredded parmesan mixed together
Directions
preheat oven to 375
prepare your 2 9 x 13 pans by lightly coating with cooking spray
split cooked noodles between the pans
melt 2 tbsp butter over medium heat in large pot
saute mushrooms, celery, and onions until onions are soft
add salt, pepper, parsley, thyme, and garlic powder; saute another 5 minutes
add cream of mushroom, broth, wine and parmesan
stir regularly and heat until cheese is melted and it is starting to boil
mix in turkey
pour sauce equally into 2 pans and mix with the noodles
sprinkle topping evenly over both pans
place in preheated oven and cook for about 25 minutes or until topping starts to brown
serve one pan and freeze the other for a future meal
To see what everyone else in class is bringing to
SHOW AND TELL
, take a trip to visit the
Goddess of the Infertility Blogosphere
.
PS...Do you know anyone who needs help affording their metformin for PCOS treatment? I found out a bout a way to help them. Please email me if you know anyone who could use this info.