Life is never, ever dull and boring with Gabriel around. Today, we have talked about giant clams, dolphins, twisters, volcanoes, planets, and meteors.
After watching the
Backyardigans
: The Great Dolphin Race episode, Gabe decided we had a giant clam just like they had in that episode. Gabe decided our new pet resided in our attic and that the dolphin came to visit occasionally. Then, Gabe proceeded to try and convince me we had to go up in the attic and visit the giant clam.
We also have twisters and volcanoes in our living room.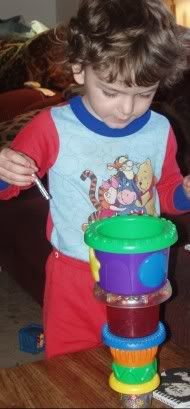 So far, the volcano has been erupting off and on all day but the twister hasn't knocked anything over yet. We also briefly had meteors soaring through the living room but he did understand when I told him meteors couldn't be inside. So, Gabe converted the meteors from foam ball composition to hard rock composition and moved them out back.
Gabe has also been exploring the planet we have in our den.
According to him there is lots of water on this planet.
As you can see, he has quite an imagination. I never know what he's going to say next.