Yeah, I'm talking about me, myself, and I. I have come to the conclusion that I have a very warped sense of humor because the following two things really amuse me. First, I present for your amusement, two signs here in Cary. The first sign is in my neighborhood before those bumps in the road designed to slow you down
(y'all will understand why I phrase it this way after you see the second sign)
...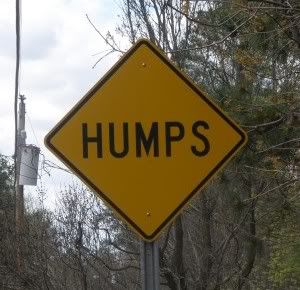 Of course, the first time I saw it, I started laughing. Thank God neither of the older boys were in the car because I didn't want to have that discussion. It was pretty damned hysterical all on its own. And, then I saw the second sign. The second sign is in near town hall before one of those bumps in the road designed to slow you down.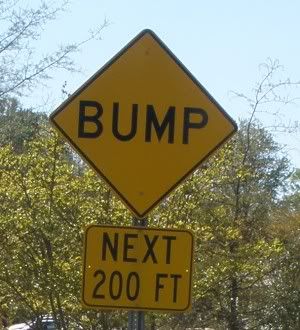 It all seems perfectly normal except for the fact that it just says bump not speed bump. Then I started thinking. Why do they use two separate sings in the same town? Are they trying to tell me something about my neighbors or are they trying to tell me that the town hall staff is sexless? I don't know. You be the judge.
******************************
The second thing that really amused me this week had to do with Facebook. You know how Facebook makes friend and group suggestions based on who your friends are and what groups they've joined. Well, I clicked over to see if there was anything or anyone interesting being recommended to me. And I saw this...
Suggestions
Add people you know as friends and become a fan of public profiles you like.
At this point, I started snickering. I just couldn't help it. I mean, I am religious. I do believe in God. But for some reason this amused me...and I had to find out what the public profile said. So, I clicked over and this is what they had on God's home page...
When I saw the line "God joined Facebook" on the wall, I lost it. I was laughing so hard I was almost crying. I honestly don't know why it was so funny but I still snicker every time I think about it.
******************************
To see what everyone else in class is bringing to
SHOW AND TELL
, take a trip to visit the
Miss Mel, Goddess of the Infertility Blogosphere
.
******************************
And, don't forget to go by
my Etsy shop
and buy a hat to support the Liz Logelin Foundation. All the details can be found in
Show & Tell post from 3 weeks ago
.
******************************

Finally, to help
Kym
and all future Sock-It-To-Me participants, I am going to set up a sock site database. It will probably just be in a post here but the info will be available to all. Please
EMAIL ME
(yes, use that link...not any other email address you have for me...using this link will keep all the emails together) and give me a link to the site you bought the socks from and any review of the site you might have.