I am so excited about my upcoming vegetable garden. I planted my seeds in the greenhouse trays on the 13th or 14th. On the 18th, 3 days ago, I saw this...
Those little bitty green shoots are my Grand Rapids Lettuce and my Buttercrunch Lettuce. Today, I went out to check on the plants and I saw this...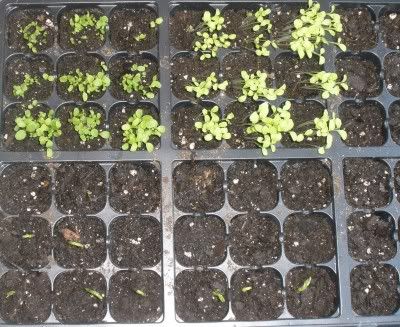 The big shoots are teh lettuces and the bottom 2 squares (the big 9 block ones) are my peas. Right next to the peas, in the lower right hand corner of the picture, is the first green bean sprout.
I think I'm going to be swamped with veggies.