I have to share my latest crochet project. I found the sweetest pattern for a
crocheted bunny
. Instead of making it in the lavender the original designer used, I made it with a multi-colored chenille yarn. It is a lot larger than I thought it would be but I love the way it turned out. I know I will make it again but next time I will use felt to make the face instead of embroidering it on.
And, my seeds are thriving. I have to show you how much they've grown in only 3 days...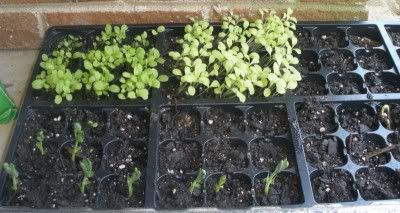 Buttercrunch Lettuce - top row, left *lg square; Grand Rapids Lettuce - top row, 2nd lg square from left; peas - 1st and 2nd lg square on bottom row; Green Bean - 3rd lg square from left on the bottom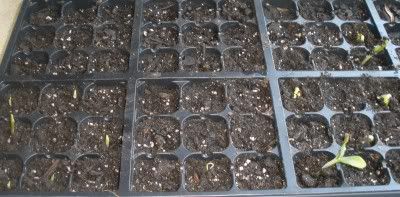 Yellow squash - top row, 3rd lg square from left; Corn - bottom row, 1st lg square on left; Tomatoes - bottom row, 2nd lg square from left, a few breaking the surface of the dirt; Pumpkins(top 6 cells)/unknown squash(bottom 3 cells) - bottom row 3rd lg square from left
only thing sprouting in this tray so far is corn
*each large square contains 9 smaller squares
Kym asked how big the seedlings needed to be before you move them outdoors. The biggest thing to be concerned with it making sure you are past the final frost of the season. If I had started my seeds on time, I could put them in the ground now. However, since I started them late (I was lazy), I will probably wate a week or two more to start moving them into the ground.