When the incomparable Kym
first announced The Great Sock-It-To-Me Exchange
, she said, "The warmth you feel from your bloggy support is a warm and fuzzy pair of snuggly socks (metaphor!). Take the support with you for a trip to the stirrups. Wear them when you're chasing around your battle-won little person. Put them on when you have something to celebrate or when you need a hug. Wear them as a physical reminder of all the people inside your computer who you know care for and are thinking of you." Well, I was privileged to receive the most adorable pair of socks from Carrie over at
Letting It Out
(pssst...she needs some bloggy love right now, please go visit).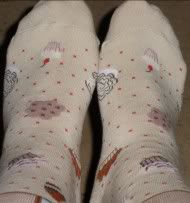 Carrie also sent the most wonderful card. The card itself was fab but even better was the note she wrote inside.
There won't be pics of the note because I haven't asked her if it's ok to post it.
Click on the pics of the card to be able to read the message.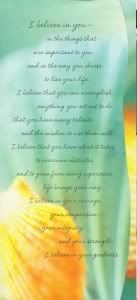 ****************************************

I've been blogging for a long time. And, although I read quite a few blogs, it hasn't been until fairly recently that I've become heavily involved in the ALI community. I am continually amazed at the strength and love the people of this community demonstrate. People in the ALI community are going through horrible, tragic events and, yet, they still find the time and energy to visit each others blogs...to reassure each other that "you are not alone"...to offer hugs, prayers, or to hold someone's hand and curse the heavens about what has happened. And, y'all don't limit your support to fertility related moments. You were here to hold me up when we lost my FIL last year. You were here to support me when I was scared out of my mind by my husband's diabetes. You were here to encourage my insanity when I started contemplating a 4th child and all the needles that would go along with that. And, I know you'll be here in the future. Thank you for being my fuzzy socks.
If you want to read more about the wonderful community we have,
check out the Sockeroo list
!