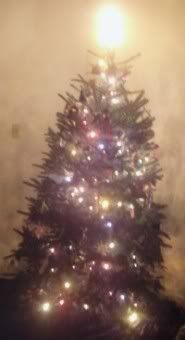 I wanted to share pics of our tree this year. Its not quite as *big as our trees in the past and, because of that, I only got to use half my decorations. I chose to leave off my fancier and more breakable ornaments so we could display all the ornaments the kids have made or collected. I think this is one of the most beautiful trees we have ever had because all 3 kids helped to decorate it.
Although the indoor decorate Christmas tree is uniquely Christian, the roots of this tradition stretch as far back as the Egyptians. The Egyptians treasured and worshiped evergreens...branches were brought indoor at the winter solstice to represent the triumph of life over death. The Romans celebrated the winter solstice by decorating their houses with lights, evergreen boughs, and exchanging gifts. The Druids decorated trees outdoors, used holly and mistletoe as symbols of eternal life, and placed evergreen branches over their doors to keep away evil spirits. In the middle ages, the Germans and Scandinavians put evergreens either inside their home or just outside their doors to show hope for the spring. Legend has it that by the 12th century, the evergreen tree was being hung upside down as the three sides were said to represent the father, son, and holy ghost. Around 1500, the evergreen tree was turned over and decorated by Martin Luther in honor of the birth of Christ.
To see what everyone else in class is bringing to
SHOW AND TELL
, take a trip to visit the
Goddess of the Infertility Blogosphere
.
*I have to leave room for Gabe to run laps through the house.
**I am also using this post to enter my tree in the
Show Me Your Tree event
sponsored by
(un)complicate me
.
*********************
I am attempting to organize a project for a very special blogger we all know and love. If you want in on the secret, EMAIL ME.