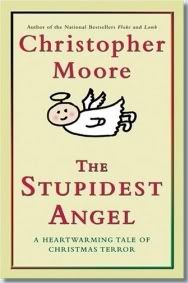 I am going to share with you the latest entry on my favorite author list...
Christopher Moore
. I picked up his book
The Stupidest Angel: A Heart-warming Tale of Christmas Terror
the last time I was at the library. It is by far the funniest book I have read in a long time. It was totally irreverent,
a little
very snarky, and a hell of a good time. I can't remember the I laughed out loud so many time while I reading a book.
Any Christmas book that manages to work in a pot-smoking constable, Kendra the Warrior Babe, and a poker playing angel needs to be read. I don't want to say too much about the book because I really, really want you to read it. Besides, you have to admire any author who has these pic up on the first page of his web site...