I have a commenting problem that is totally baffling me. I don't know if everyone realizes it but blogger has a new version of the comment section that looks like this...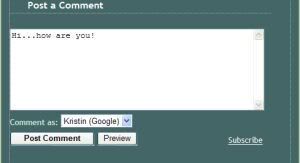 In the section where it has my name, the typical option says select profile and then lists all the different ways you can sign in once you click on it. Either my computer doesn't like it, it doesn't like me, or something equally funky is going on. When you click on post comment, a little word verification window opens up. Once you have completed that, your comment goes up.
When I open a blog that has this comment form in Mozilla(aka Firefox), I can't comment because this is what the word verification looks like...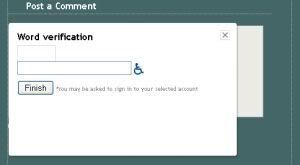 See...no word to enter...hence, the inability to comment.
If I open a blog using this comment form in IE (which I don't like to do because IE is so much more vulnerable to attack), I can comment because this is what the word verification form looks like...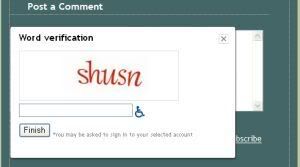 See the difference?
To make things even more interesting, I went to
Stirrup Queens
and
The Stitching Teacher
yeserday and when I went to comment they both had the new comment form. This was before I figured out the IE trick. I typed in a comment and for whatever reason unknown to me, I decided to hit preview instead of posting directly. This switched their comment form back to the original style of comment form...
which I have no trouble with at all. So, I figured I would try it on
Silver's blog
. Afterall, if hitting preview caused the comment form to revert on those other two blogs, shouldn't it work there too? NOPE...it didn't change anything on her comment form (it was after this that I in desperation tried her blog in IE and I could comment).
Does anyone have any idea what in the hell is going on? I am so confused (And usually I can figure out computers).
BTW...the comment forms on both Stirrup Queens and Stitching Teacher have remained in the original form since then and have not reverted back to the new form.