This is gonna be a long post y'all. I have a bunch of pics and I don't really want to split it into two groups so YOU MUST SUFFER....bwahahahahahahaha! BTW, all the pics are clickable and the larger pic opens in it's own window.
me with the Jimmy Dean sun...
the Rachel Ray show was here later in the day
Rys, Chef Jill Houk, me...
she is an incredibly cool lady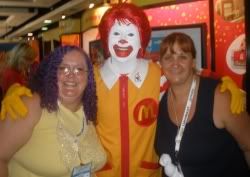 Rys, Ronald McDonald, me
This next picture isn't the best one in the bunch but it is one of the most important pictures I took. Like I said before (I think cause I'm too lazy to go check), the sessions and meeting people were the most important part of BlogHer10 for me. And, this session was the key moment of the whole conference for me. All the lovely people you see in the picture below have gone through some sort of immense tragedy in their life and, in some cases, the whole story actually played out online. These people are some of the most courageous people I've had the pleasure of meeting. They got up there and talked about some incredibly painful things and talked about how the community we've built helped get them through it. They confirmed one thing I have felt for a long time. You people out there, those of you I've laughed with and cried with and celebrated with and loved with, you aren't my friends who live in the computer. You are plain and simply MY FRIENDS...no qualifiers needed, no other explanations given. I don't care if we've met a bunch of times or we've only talked online. The internet has changed the way we meet and make friends and, I for one am thankful.
Cecily Kellogg, Loralee Choate, Kim Trimble and Anissa and Peter Mayhew
the panel from the Grief, Loss, Tragedy,
and Community on the Internet session
These next pictures are from the parties that went on that final night...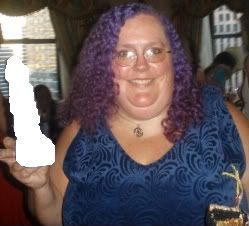 me at the Eden Fantasys party...
click on the pic if you want to see our arts and crafts project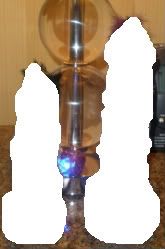 The arts and crafts projects Rys and I made
at the Eden Fantasys party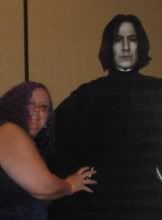 me and Rys with Snape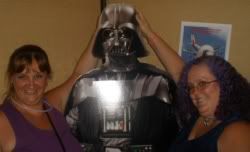 Rys, Vader, me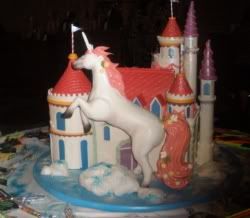 the Sparklecorn Cake from Charm City Cakes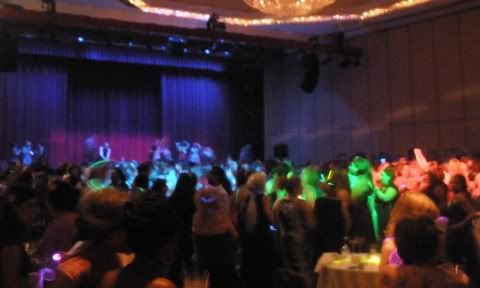 lots of people I don't know dancing at Sparklecorn
me, Tonya,and Rys lounging on a bed near the dance floor
at CheeseburgHer...don't you love our hats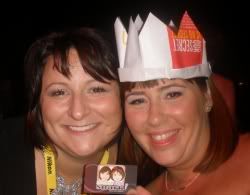 the lovely Amy and Rhonda from Southern Fried Snark
you know it's time to call it a night when the Dark Lord
is bandaged and stretched out on a bed at CheeseburgHer

Tune in tomorrow for my final picture post from BlogHer.