Here's the second half of the shitload of pictures I took on Day 2 of BlogHer...
After lunch with the lovely ALI ladies, I managed to meet up with one character I had missed earlier, the Pillsbury Doughboy.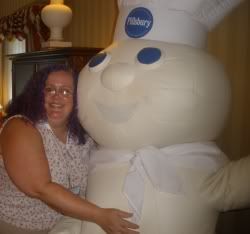 me with the Pillsbury Doughboy
And, being completely addicted to pictures, I couldn't resist taking a few pictures out my hotel window. Looking out my window on the 20th floor, I caught site of something on the roof of a nearby building that intrigued me. The first picture is without zoom and the second is zoomed in on my little point and shoot camera...
the circle part is in the picture below
roof top gardens
Look at those two roof top gardens. Aren't they gorgeous? I can only guess how much something like that costs in New York. I took these pics when I stopped over in my room on the way upstairs to meet the lovely and talented and very funny, Cecily Kellogg.
me with Cecily of Uppercase Woman
I wish I had pictures of the sessions for you but, the pictures I took just don't convey the impact and power and humor of the sessions I went to. So, the next pics I have are during the Voices of the Year Gala on Friday. There was an extensive gallery (maybe I should say galleries) of the artwork inspired by the Voices of the Year nominees and there was a ton of activities...fabulous balloons, places we could create artwork with others, a photographer taking amazing pics with a vintage polaroid camera.
Rys and the balloons
Rys adding to the artwork
wonder if there is a story behind this...
and, boy do I hope the owner found this gorgeous shoe
part of a long row of pedal cab drivers dressed
up like Mario...outside of the hotel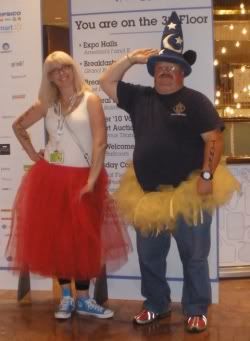 they wore their Tutus for Tanner all day
Rys and me at the Gala
Thank you for indulging me and taking a peak at my pics. I honestly planned on finishing this up by today but I have two more days of pics to share.