Okay y'all...I am really, really trying not to have this be all I write about this week but it's hard. To write about other things, I have to be back in reality and, well, that sucks just a little...not my life or reality sucks but letting go of the fun and fabulousness of BlogHer sucks. As you can see by the total lack of proper grammar, my brain is not quite ready for a full return to reality so it's time for pictures.
The Hilton New York
Dora of My Preconceived Notion
and her Sunshine
A Judaica store next to a Tarot card reader...
only in New York
Flipping the bird for Aunt Becky...
from l to r - Rys, The Daver, me
Sheri, Lori of Weebles Wobblog, me
Rys and me making Tutus for Tanner
meeting the Bloggess in the Bathroom

the fabulous desserts of Queerosphere
more fabulous dessert from Queerosphere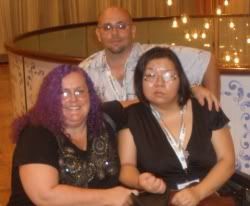 me with the indomitable Anissa
and her husband Peter
I truly can't begin to express in words just how amazing this weekend was and hope just a little bit of it comes through in the pictures.