and this past week it was me. I decided I am willing to point out my humiliating lack of foresight to help y'all avoid making the same clueless mistake.
This past Thursday, my mom called and said that she had seen ads for
Dora Live
and said it was going to be in Raleigh this past weekend. She offered to get tickets for Gabe and me if I thought he would like to go. I knew Gabe would love it and, since its pointless to try and
argue
talk my mom out of these notions she gets, I told her we would love to go.
I don't know why I didn't go straight to the
Ticketmaster
website. My only defense is the last time I did anything other than buy tickets at a box office, phone ordering was the only option (yes, its been that long). I googled Dora Live and Raleigh, NC and got a list of ticket sites that had tickets for sale. I thought I was being smart and checked the prices at a few of them and they all seemed to be about the same pricewise. I was a bit surprised at the nosebleed seats having a price of $49 but my mom said it was ok so I ordered them from one of the first ticket sites I opened, TicketKingOnline.com. Ot wasn't until the tickets arrived on Friday that I realized what a RIPOFF that was. See, all TicketKingOnline did was order the tickets from Ticketmaster and then resell them to me. I could understand a moderate markup for that but they charged me $49 for a ticket that would have cost me $17 through Ticketmaster.
Oh well, this will be filed under the live and learn heading. I will never buy tickets from anyplace other than the box office or Ticketmaster. The show was great and even the nosebleed seats were wonderful. Most importantly, Gabe had a fabulous time.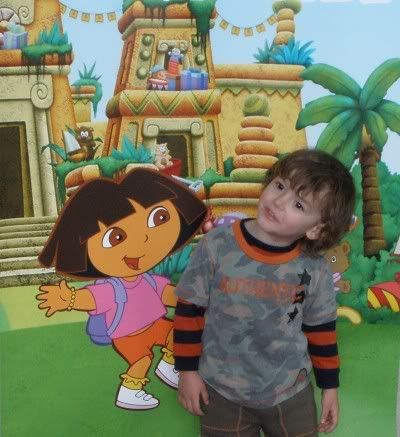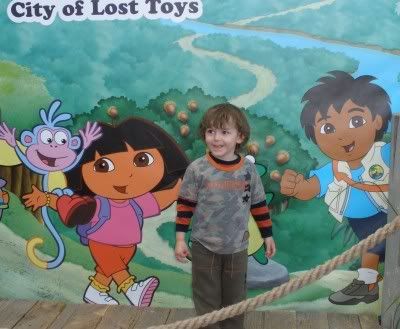 *BTW, I did take these pics. The pics in my last post were mostly culled from publicly available pics because I wasn't always the shutterbug I am today.