12 years ago, I woke up at 2 am when I felt my first real contraction. I was so ready for my baby boy to be here. For the final 2+ weeks of my pregnancy, I couldn't even drive myself anywhere because I was so swollen that my hands and forearms would go numb if I wrapped my hands around a steering wheel. It wasn't a quick labor. My contrax didn't close to within 5 minutes of one another until nearly 8:30 am. When I go to my OBs' office at just after 9 am, I was barely dilated past 3 cms. It was going to be a LONG day.
Since I lived over 40 minutes from the hospital, they sent me over even though I was only at 3 cms. Labor was slow but steady for most of the day. By mid afternoon, I had an epidural, an IV with antibiotics because I had a low grade temp, and mag sulfate to treat my pre-eclampsia. Then, they had to piggy back on pitocin because the mag sulfate managed to stop my full term labor (go figure...half the time it can't stop pre-term labor). By the time they got my labor going again, Marty's heart rate was dropping precipitously with each contrax. I'd been in labor for almost 16 hrs and we were both tired. I gladly signed the papers to have a c-section. I just wanted him safe. At just after 6:30 pm, my oldest son was born.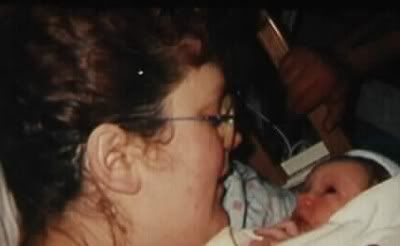 Marty and me an hour after delivery
Vic and Marty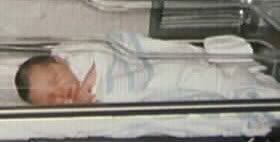 My little man
It has continually stunned me how quickly Marty grew and changed over the years. By his first birthday, he was running all over the place, feeding himself, and trying to talk.
February 1998...Marty turns 1
12 short years later, Marty has grown into such a fine young man. Like all preteens, he definitely has his moments. However, he has many moments when the man he will eventually become shines through. He gladly helps his friends and family. He has been known to quietly donate all the money he has saved to help the victims of disasters. And, I've never known him to make fun of someone because of a physical or mental disability. I still remember the time we were at a church potluck dinner when Marty was about 8 and, without any prompting from me, he helped a physically disabled man with his plate and food. He made me so very proud...and he still makes me proud today.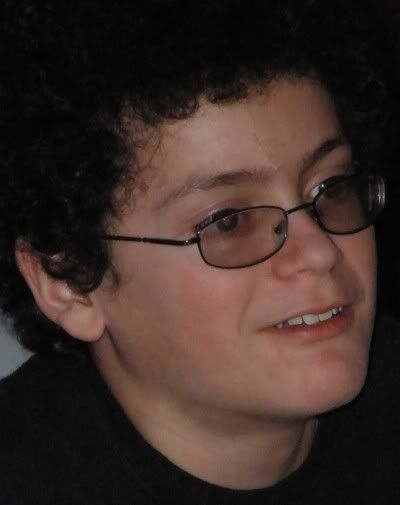 Marty 2/19/09
He has grown into such a handsome young man. He is only an inch shorter than me...in another month or two, he will be taller than me. And, hehehehe, he has gunboats for feet. His shoe size has almost kept up with his age. His shoes are a men's size 10 1/2. And, my young man has his first real pimple. ROFL...he would kill me if he knew I was telling you that.
HAPPY BIRTHDAY MARTY!!! We love you very much.