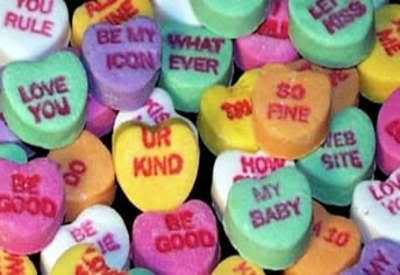 Gabe adores candy hearts. He discovered them last year at Valentime's Day (his version of the name) and developed such an affinity for them that I had to hit the after holiday sales and stock up so he wouldn't go into withdrawal. Yesterday, when I was at CVS drug store, I found bags of the candy hearts for only 99 cents. I bought a few and dumped them in the glass pumpkin I usually use to stash lollipops.
After breakfast this morning, Gabe asked if he could have some. I gave him a small bowl and he was happily munching on them as he watch Nick Jr. Gabe is only 3 so he definitely can't read yet but he does recognize letters and he recognized the fact that there were words on his candy hearts. Gabe asked me, "Mom, you got me candy hearts?" I told him, "Yes, I did." Gabe looked up and said, "Mom, you make my heart happy."
I think I almost melted.