This week, the entire 2nd grade at Joey's school had a flea market. For the two weeks before the flea market, the children earned "dollars" to spend at the flea market when they were well behaved instead of earning tickets to trade in for prizes at a later date. The children had to develop a product at home, produce 30 to 40 items, and then, at school, they had to price and sell the items.
Joey and I discussed many different ideas. He finally settled on felt bags with a drawstring at the top. He decided we would decorate half with a girly picture and half with a boy picture. We cut out 80 felt rectangles and then glued together 3 sides on each set to make 40 bags.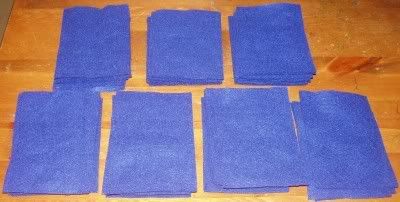 Joey settled on flowers for the girly design and turtles for the boy design. Joey picked out a flower design and a turtle design and I printed out the pictures and turned them into stencils
Then we decorated the bags. Most were done by using the stencil to define the space but a few were done by flipping over the stencil and using the paint on the stencil to leave the impression.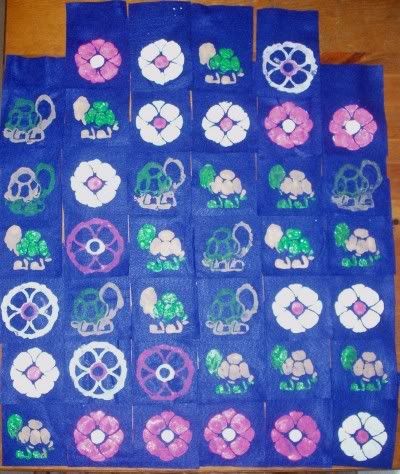 I did the final step of cutting the slits to run the drawstring through and adding the drawstrings. The finished bags were awfully cute if I do say so myself. I guess the kids thought so too because Joey sold out.
To see what everyone else in class is bringing to
SHOW AND TELL
, take a trip to visit the
Miss Mel, Goddess of the Infertility Blogosphere
.
*******************************************************************
BOOK CHALLENGE AND CONTEST FOR 2009
I am hosting a year long contest dealing with a reading challenge. Check out the details
here
and sign up in the comments section of that post. The ultimate winner will get a fabulous prize from me at the end of the year.