Once upon a time, there was a woman who lived an average life...at least it seemed like an average life. But, when you looked into her life you discovered she had lived in many fabulous places and had experienced many fabulous things.
She started her life in Taipei, Taiwan...because her parents couldn't bear to be kept apart by the USAF when their first child was born.
Taipei, Taiwan
After spending 9 short months in Taiwan, she and her parents moved back to McGuire AFB in New Jersey. While she lived there, she discovered the joys of finger painting walls with tooth paste, having your own personal green hippo, and what happens when your parents bring a little squalling thing home from the hospital.
McGuire AFB in New Jersey
New Jersey was followed by almost 4 years at Ramstein AFB in Germany. While in Germany, she had her appendix out, broke her leg, visited glorious castles, drifted through the canals of Venice, learned to ski, toured the salt mines, camped across Europe, and gained another sister.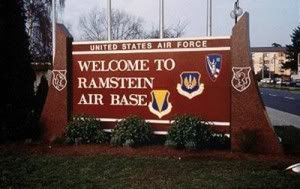 The next 2 years were an orgy of sun, sand, and body surfing in Hawaii. The then young girl caught itty bitty sand sharks in the canals, body surfed on the military beaches with her golden retriever, and had a best friend whose dad was in the mafia.
Kailua on the island of Oahu, Hawaii
Next came 5 years in Fort Walton Beach, Florida. These years included a disastrous adoption attempt by her family, braces, glasses, and 2 hellish years of middle school...ugh. But, before she reached that point, the young girl discovered the joys of sleep overs with friends, riding lessons with an incredible teacher, riding a horse bareback though ponds, and having a horse all to herself one summer.
Fort Walton Beach, Florida
Her next home was in Goldsboro, North Carolina. Although many wonderful things happened during the years to come, the only thing Goldsboro had to recommend it was and is the Air Force Base.
Fighter from Seymour Johnson AFB, Goldsboro, NC
She moved to NC at the end of 8th grade and thus began her era of summer camps, some of the best times of her young life ...Girl Scout National Center West (horseback camp in Wyoming), summer geek camps at Appalachian State University and Salem College, a two week summer science seminar at the Air Force Academy. Her high school years were filled with drama club, year book, lots of AP classes, and lifeguarding (great summer job!). She was lucky enough to get into her 1st pick school for college and spent 4 years in Durham, NC at Duke University.
Duke Chapel on West Campus
Duke East Campus
College was filled with classes, semi-formals, ROTC (until that knee she broke back in Germany messed up that), camping out in
Krzyzewskiville
to get tickets for basketball games, bonfires with the
Cameron Crazies
, tunneling under East Campus, blender partied with the Phi Kaps, sewrvice projects and fun with Alpha Phi Omega, and many other unmentionable activities (and, yes, she still managed to graduate in 4 years). The summer after she graduated, she moved to Hillsborough, NC.
Hillsborough, NC
While living in Hillsborough, she became a member of the local Rescue Squad at the urging of her good friend Mike Wilson and eventually became a paramedic. She also spent about 4 months training horses withe a former member of
USET
. She worked various jobs to support herself but the most important thing that happened while living in Hillsborough was she met her future husband while volunteering at the Rescue Squad. After a bit, she and her husband to be moved to Burlington, NC where they established their life together and eventually had 3 sons.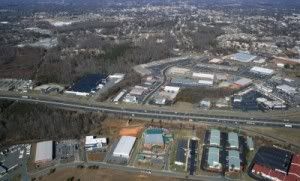 Burlington, NC
Life went on and the not so small family found themselves moving to Cary, NC.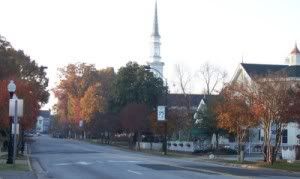 Cary, NC...hard to believe its a city with over 100,000 people
While the move to Cary was not what this woman or her family initially wanted, it turned out to be a gift from God. Living in Cary has given her children a better education, her husband a job he loves, a neighborhood that is filled with friends, and many opportunities and activities that just weren't available where they use to live.
I have lived a wonderful life.
To see what everyone else in class is bringing to
SHOW AND TELL
, take a trip to visit the
Miss Mel, Goddess of the Infertility Blogosphere
.
*******************************************************************
BOOK CHALLENGE AND CONTEST FOR 2009
I am hosting a year long contest dealing with a reading challenge. Check out the details
here
and sign up in the comments section of that post. The ultimate winner will get a fabulous prize from me at the end of the year.