Yesterday, I went in to get my hair dyed. Last year, when I went purple, I did it myself with Manic Panic UltraViolet...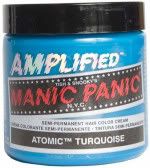 I decided to go to a hair salon to have it put in and I made an appointment at the fabulous
Salon Jon Clay
here in Cary. I bought 2 jars of UltraViolet and 1 jar of AtomicTurquoise and took them to my appointment yesterday.
It was kind of funny how much attention my dye job attracted. Kim, my stylist, said she had done streaks of color but had never done a full head of such an unusual color. The other stylists kept stopping by to see how it went as Kim progressed with the dye job. My original plan was for almost all of the hair to be purple with a few streaks of turquoise. It was all going swimmingly. My turquoise streaks were in, my hair was over halfway done, Kim and I were chatting, and she turned to get more dye on the brush. She commented that it looked like we would have just enough purple to do the job. As she turned back, I heard a rather loud crash followed by a loud "Shit" from Kim. Generally when your stylist says SHIT, it isn't a good thing. As she turned back, something knocked the remaining purple onto the floor and we lost about 2/3 of what was in the bowl to splatter. Poor Kim was so upset but I laughed and said "Just do the underneath back with the turquoise. It's not like I'm going for normal and we have enough left." Well, it turned out that the spillage was a serendipitous mistake. In the back, the purple merges into the turquoise and the turquoise fades towards the ends. It totally looks like it was done on purpose and I told Kim she should claim it was planned. The lady having her hair done next to me commented that she wished she was brave enough to do something like that because it looked really cool.
So, this year I'm sporting a peacock look just in time for BlogHer. Hopefully, I can find some clothes to match.