Welcome to our weekly expedition into the land of Show and Tell. Y'all know Show and Tell is wasted on the elementary schoolers. Join us weekly to show off an item, tell a story, and get the attention of the class. In other words, this is Show and Tell 2.0.
I am so thrilled with our tree this year. All three boys and my
*
SBC Jennifer helped me decorate the tree. Joey got so excited that he was unwrapping decoration after decoration and not taking time to hang them up. Gabe was practically pinging off the walls with excitement while we were decorating. Even Marty has commented how much he loves our tree this year. Sadly, Vic was at work. The best part is that this year I got every single decoration on the tree but I think that next year I will either need a bigger tree (ours is at least 8 ft tall) or a second tree. I was out of room probably about 10 to 15 ornaments before I was done and I simply can't see myself stopping the collecting of these treasures.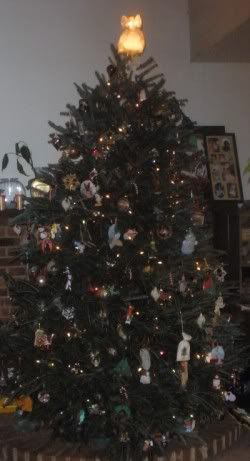 Oh Tannenbaum 2009


lights all aglow - Oh Tannenbaum 2009

*
SBC = sister by choice
*****************************************
To see what everyone else in class is bringing to
SHOW AND TELL
, take a trip to visit the
Miss Mel, Goddess of the Infertility Blogosphere
.