That's right,
Aunt Becky
interviewed ME! (
ok, itsreallyforagiveawayandshesinterviewingwhoeverelsewantedinontheaction
but most importantly ME!!!!)
Aunt Becky
says...
I'm always telling you to shut your whore mouth. Now it's time to open it.
1) Do you like sprinkles on your ice cream? Yes

2) If you had to choose one word to banish from the English language, what would it be and why? It's not a word I want to ban, it's a phrase. I want to ban "No offense but". That always sets me on edge before I even hear what's following. If it's offensive either don't fucking say it or find a better way to phrase it. Sorry, I really HATE that phrase.

3) If you were a flavor, what would it be? Hmmmm, my favorite, Chocolate Raspberry Truffle ice cream

4) What's the most pointless annoying chore you can think of that you do on a daily/weekly basis? fold laundry - other than that I refuse to do pointless chores.

5) Of all the nicknames I've ever had in my life, Aunt Becky is the most widely known and probably my favorite. What's your favorite nickname? (for yourself) Honestly, I've had very few nicknames. I would say it's a tie between my hubby's nickname for me (Pookie) and my dad's (Pooh Bear).

6) You're stuck on a desert island with the collective works of 5 (and only five) musical artists for the rest of your life. Who are they? Billy Joel, Louis Armstrong, Beethoven, Toby Keith, Aerosmith

7) Everything is better with bacon. True or false? True False Oh hell, true

8 ) If I could go back in time and tell Young Aunt Becky one thing, it would be that out of chaos, order will emerge. Also: tutus go with everything. What would you tell young self? It is all worth the wait.

Now, it's time for y'all to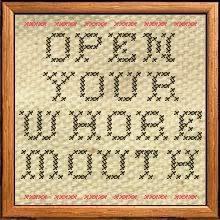 and ask me questions. No questions too silly or too personal (well probably not). I will answer almost anything so don't ask if you don't wanna know.
Answers to all quesations asked me will appear in my birthday post on Sunday.