Welcome to our weekly expedition into the land of Show and Tell. Y'all know Show and Tell is wasted on the elementary schoolers. Join us weekly to show off an item, tell a story, and get the attention of the class. In other words, this is Show and Tell 2.0.
On Sunday, we celebrated my 40th birthday and Gabe's 4th birthday. We had a wonderful time and way, way too much cake. My mom brought me a cemetery cake featuring a tombstone with my name and birthdate on it. LOL, I can't complain too much because she is getting me back for what we did on her 50th birthday. As always, I made the kidlet's cake. Gabe requested a big red ghost game cake. In his world, the big red ghost game equals Ms. Pacman. That's right, I made a cake that looked like the screen of Ms. Pacman. Not only did it have the whole screen, it had the extra lives, and it even had a score. I decided his score would equal his age (365 days x 4 = 1460). I made a chocolate cream cheese frosting that I tinted almost black for the background. Then, I made a batch of fondant (and homemade fondant can actually be yummy) that I then tinted all the various colors needed for the game. This was the first time I've ever worked with fondant and I think I did a pretty good job. All pics are clickable and open in a new window.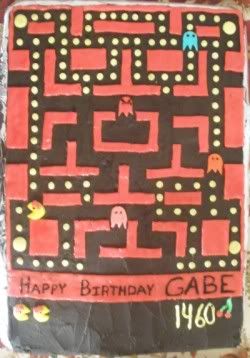 I got some totally cool birthday presents - some gift cards and TICKETS TO BLOGHER (which I'm currently trying to order and the system is fighting back).
I've already used the gift cards. I bought these cool pjs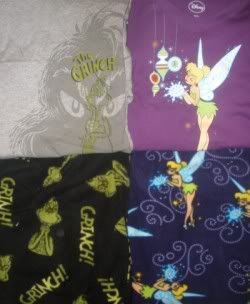 and this gorgeous shirt plus some candy cane striped fuzzy socks that aren't pictured
*****************************************
To see what everyone else in class is bringing to
SHOW AND TELL
, take a trip to visit the
Miss Mel, Goddess of the Infertility Blogosphere
.