Welcome to our weekly expedition into the land of Show and Tell. Y'all know Show and Tell is wasted on the elementary schoolers. Join us weekly to show off an item, tell a story, and get the attention of the class. In other words, this is Show and Tell 2.0.
I promise that I won't continue to inundate you with Christmas stuff after today but I just had to share these pictures. Of course, all pics are clickable for closeup viewing.

my 3 crazy boys


Joey, armed and dangerous


from L to R: my BIL John (married to Keri), my dad, my sis Becky


my niece Kayla and her mom, my sis Keri


my Bil Jose (Vic's younger brother)


my niece Brianne (Keri's other daughter) and Gabe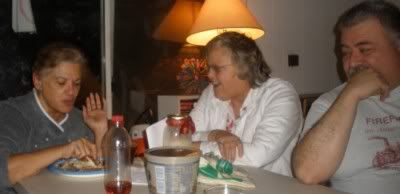 from L to R: my MIL Ruth, my mom, my hubby Vic

my BIL Trevor (married to Becky) and my MIL
She had just told the grandkids to come say Merry Christmas if they wanted their money so Trevor came bouncing up saying Merry Christmas. She nearly fell out of her chair laughing.

*****************************************
BTW, the decade ends NEXT YEAR...we start counting our years with 1 C.E. (or A.D. as it use to be called) so the first decade ended at 10 C.E. and this decade and millennium started in 2001 C.E. and ends in 2010 C.E.
*****************************************
All Book Challenge participants, please check the
previous post
for info.
*****************************************
To see what everyone else in class is bringing to
SHOW AND TELL
, take a trip to visit the
Miss Mel, Goddess of the Infertility Blogosphere
.