Welcome to our weekly expedition into the land of Show and Tell. Y'all know Show and Tell is wasted on the elementary schoolers. Join us weekly to show off an item, tell a story, and get the attention of the class. In other words, this is Show and Tell 2.0.
It's been a while since I've showed of any of my crochet work so I thought I'd bring these items to the table. These two pair (almost) of socks are for my Sock It To Me buddy. The blue and white pair are actually slipper socks. They have thicker soles to withstand the wear and tear of being worn without shoes. The second, autumn colored pair of socks are heavy but can be worn with shoes.
And, I know I showed you this other piece ages ago when it was a work in progress. Well, it is finally in transit to the sweet baby it is meant to wrap up. This 6 to 12 point star afghan is made mostly from chenille so it is wonderfully soft.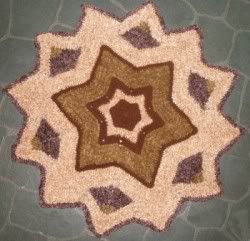 Don't forget to check out (and sign up for) my
the 18 x 24 Poster Print Giveaway from uPrinting.com
. ENTRIES END TONIGHT. Winner will be announced tomorrow.
To see what everyone else in class is bringing to
SHOW AND TELL
, take a trip to visit the
Miss Mel, Goddess of the Infertility Blogosphere
.