I got off easy this year in the costume department. Marty decided to go as a vampire again. Joey created a cop costume from his dress up/pretend stuff. And, I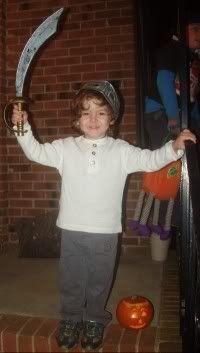 finally got Gabe to agree to dress up as a knight. Gabe loved the idea of the knight's helmet and, of course, he liked the sword. However, until he saw Marty wearing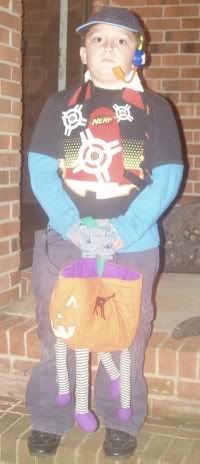 his vampire cape, he flat out refused to wear the knight's cloak we have. Once Marty's cape was on, Gabe was happy to wear his. I decided to go ugly. I put on my fake nose and chin, green makeup, and frizzed my hair as big as it would go. Gabe's first response was, "Take it off mommy."
We had gone about 1 block when Gabe decided it was time to scare the shit out of mommy and Aunt Jennifer. He pulled away and took off running towards the road to go across to the next house. As he started running, a car (traveling way to damned fast for a Halloween night) started down the road. It was one of those moments
when you see whats happening and you know you can't stop it. All I could see flashing in front of me was my precious boy in a crumpled heap. I screamed like I have never screamed before..."NO". The part of my brain that was "watching" this all happen thought, "Boy, I've never heard her voice sound like that before." Gabe must have picked up on the sheer terror in my voice because he screeched to a halt. The
woman in the car evidently heard me too because she hit her brakes. The car and my precious boy came to a stop less than 2 feet apart. 2 or 3 more steps and Gabe would have been immediately in front of that car's bumper and I wouldn't have been able to save him. I somehow managed to keep from totally losing it and collapsing into a sobbing pile of goo right there and we went on to have a wonderful evening. I don't think I stopped shaking for at least another 10 minutes. Gabe, on the other hand, only seemed to be affected by it all for about 10 seconds.
The kids were all thrilled because the people in our neighborhood gave out great candy and they got tons of it.
Gabe provided the comic relief because he wouldn't say Trick or Treat. He would hold up his bag and say "Put it in mine bag." and then he would thank them a few times.
Over all, I'd say it was a Halloween we will never forget.
To see what everyone else in class is bringing to
SHOW AND TELL
, take a trip to visit the
Goddess of the Infertility Blogosphere
.