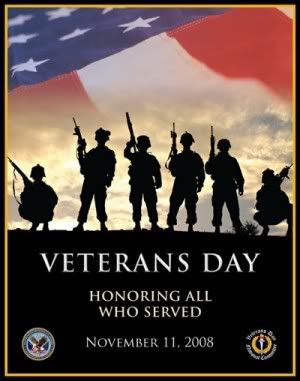 What is today to you? Is it just another day off work or school or do you remember the real purpose of today?
Today is November 11th. Today is
Veterans Day
. It's is not a day for being lazy. It's not a day for sleeping late. Its a day for remembering and honoring The brave men and women who lay their lives on the line so we can have our freedom.
Veterans Day was originally called Armistice Day and was put in place to honor the brave men who fought for us during World War I.
*"
President Wilson proclaimed November 11 as the first commemoration of Armistice Day with the following words: "To us in America, the reflections of Armistice Day will be filled with solemn pride in the heroism of those
who died in the country's service and with gratitude for the victory, both because of the thing from which it has freed us and because of the opportunity it has given America to show her sympathy with peace and justice in the councils of the nations…"
Please take a moment today to recognize our veterans. Stop and say a prayer. Explain the significance of the day to your children. If you know a veteran, a veteran's family, or an active duty military member, take a moment and say thank you. No matter how you feel about the current wars we are fighting...no matter how much you might wish we could solve all the world's problems without war...the fact remains that we wouldn't have the freedom for you to espouse those beliefs without the men and women who have laid their lives on the line.
To my dad, Major Owen Joseph O'Donnell III; my FIL, Command Sergeant Major Sigifredo Cruz- Vega; and my grandpa, Lt. Colonel Martin Iverson...Thank you from the bottom of my heart for all you gave to this country. Dad...enjoy the day. Grandpa and Sig...I miss you with all my heart.
*The complete history of Veterans Day can be found
here
.
**Take a moment and watch this wonderful video...
George Canyon's I Want You To Live