There were so many truly incredible quilts. And, the vendors had some truly amazing fabrics and fabric stamps and yarns and embroidery threads and...despite all that I was a very good girl. I only spent a total of $22 ($5 entrance, $5 on raffle tickets, and $12 on fabric).
Here are a few of my favorite quilts from the show...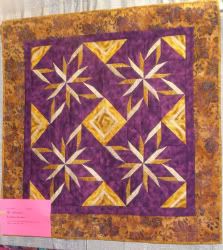 I came away with so many ideas and plans for quilts. I will have to put another post up tomorrow with the rest of my favorite quilts. I think this is long enough as it is.