Welcome to the new edition of Show & Tell blogger style hosted by wonderful and fabulous Suzy at
not a fertile myrtle
. I know I already made y 'all look at the crafty goodness of the red ghost costume but I can't resist sharing more craftiness with you.
I recently finished the cutest hat for a friend's preschool aged son. Since her son has a big head (just like my kids), I used Gabe as my test model. This hat was crocheted using the
Divine Hat Pattern from Rheatheylia
and I added my own little twist.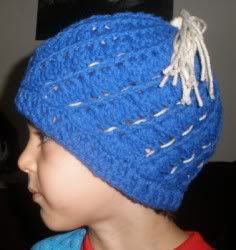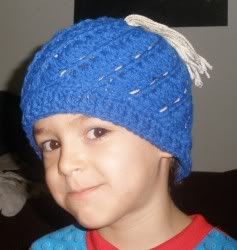 I also finished the front of what will be a
denim rag quilt
tote bag. With this style, you sew pieces with the wrong side (inside) together so the seams fall on the outside of the piece. Then, when you wash it, the edges of the denim fray and give it a really cool look.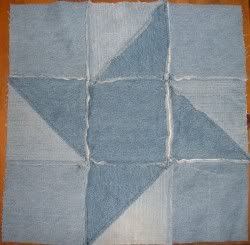 Head on over to Suzy's to
check out the other Show & Tell entries
this week.