Today has been a much happier day. The stuff that has made me happy is kind of silly but, hell, I'll take it.
Last night I found out I won the
Flip MinoHD
video camera being given away by Cisco through
Aunt Becky
. I am thrilled. I have been lusting after one of these wonderful little video cameras for a long time and now I have one. Best of all, I will have it in hand before BlogHer.
And, today I bought my bus tickets to get to BlogHer. I remember telling y'all about
my $60 round trip fair
and now I have my e-tickets in hand.
I even know what subway lines I need to hit (and which station I have to change lines at) to get from the bus station to the hotel. I am getting so excited.
And now, just because I feel like it, here is some garden porn(all pictures are clickable)...
my entire container garden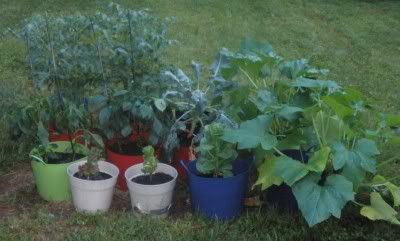 Gabe next to the tomato plants
My squash and zucchini harvest
my cojoined twin squash
the squash flower I created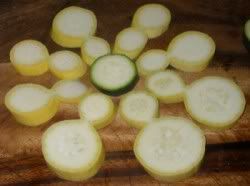 And, my lovely tomato plants have about 14 baby tomatoes on them. Woohooo!