If you had asked 20 yrs ago to describe the man I would marry, I would have been wrong. I had some deluded notions about the surface details of the man I would fall in love with. If you had asked me to describe the man I wanted to father my children, I would have been spot on. I wanted a man who was strong and loving and faithful. He would teach his children the value of hard work and the beauty of a loving and faithful relationship with their mother. I wanted a man who wasn't afraid to show his feelings but not someone who was a "modern man". I wanted a man who was smart and motivated. That was always more important than formal education. I wanted a man who would value daughters as much as they valued sons. I wanted a man who lived an honorable life and would teach his children the value of that.
Almost 16 years ago, I married the man of my dreams. 13 1/2 years ago, we became parents and I watched him become the father I dreamed my children would have. Because of my c-sections, Vic has gotten to be the first one to hold each of our boys. I remember his singing to Marty as we were both wheeled back to recovery. I've been privileged to see him hold our boys close and wipe away their tears and, moments later, laugh and joke and play with them. He reads to them and teaches them and lives for them. He is an honorable man and is raising three honorable boys with me. Vic loves me, treats me as an equal, and treats me with chivalry. I believe our boys will grow up to be fine men because they have this example to live up to. Our boys are not afraid to be loving and gentle because they have seen their dad act that way. They are growing to understand that being a strong man does not mean avoiding gentleness. I can't think of a better person to be a father to my sons.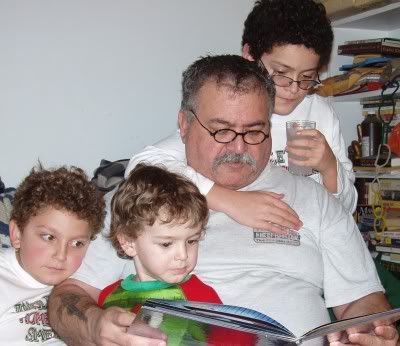 Happy Father's Day honey. I love you!