Welcome to Photo Firday hosted by the brilliant and beautiful Calliope of
Creating Motherhood
. She is sponsoring this weekly opportunity to indulge your inner artist and take artsy fartsy photographs. This week's theme called for us to take an honest photo of our desk. I must admit that my photo isn't that artsy fartsy this week but I promise it is a pic of my desk as is. I did take the picture from an angle that hid a bit of the mess but that is all.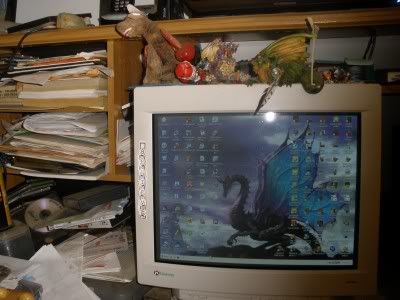 Don't you love all the dragons on my monitor? I don't know what I'm going to do when I finally get a flat panel monitor.
Now, head on over to Calli's y'all and
check out everyone's photos this week
.