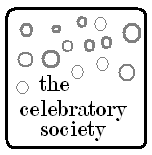 Once again,
Mel
's brilliance is shining through. Mel has come up with the idea of the Celebratory Society. The Celebratory Society is an online
festschrift
(click
here
for a more complete expalnation) for a blogger- a way for you to tell me what my blog or actions mean to you.
Think of this as a call to delurk. Tell me how you found me and what attracted you to my blog...why you keep coming back. But, this isn't just about me. The Celebratory Society is all about getting and giving warm fuzzies. That means you need to head on back to your blog (but not until you are done here), write your own Celebratory Society post, and add it to the
main project list
. This will give me a chance to tell you what an awesomely, wonderful and totally kick ass person I think you are.