otherwise know as Kristin is participating in ICLW. See, I am really laid back about most things in my life. Very few things inspire obsessive behavior of any type in me. The weird thing is, I can't always predict what appeals to my insane side. For example, I am obsessively neat when I put my cross stitch floss on bobbins. I hate bobbins that balloon out in the middle. Mine are nice, neat, and flat. They look like they are wound by a machine.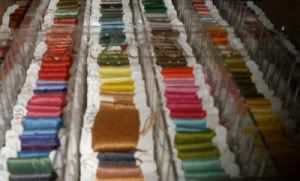 I also am obsessive about ICLW. I get all bent out of shape if I miss commenting on any blogs during ICLW. I try to resist but it never seems to help. Hmmm, I wonder if I could redirect some of that obsession into something useful, like housework maybe. So, what if anything do you obsess about?
****************************************
BTW, for anyone who is new to my site, here are some links to help you get to know me better...
****************************************
Finally, I found out that one of my all time favorite books,
The Art of Racing in the Rain
by
Garth Stein
, has been optioned to become a movie starring none other than Patrick Dempsey aka Dr. McDreamy, in the lead. I can't wait!