Hey y'all. Happy Saturday. Sorry there isn't much coherence to my post today but I've got family coming over and I've got to get some cleaning done.
I finished the crocheted pig I showed you last week. I am thrilled with how he turned out and the little boy he was made for love it too.
****************************************
Gabe desperately needed new shoes so I took him out to get some yesterday. We found some shoes for Gabe and then he spotted the Halloween socks. Gabe begged and pleaded and ended up with a set of ghost sock. It's pretty funny because they are adult socks which means the heel hits the top of his ankle and they can be pulled up past his knees but he LOVES them. I also found a pair of sneakers that I had to have. How can you possibly pass up purple shoes (and, yes, those socks are a pair and they don't match...they are sold that way)?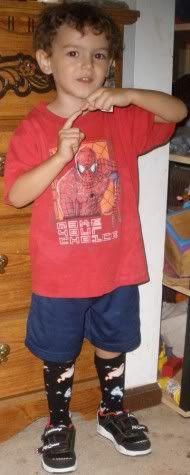 ****************************************
Last weekend, I helped Joey build a boat for the
Raingutter Regatta
. The cool thing is this is the only one of the races (Pinewood Derby, Space Derby, and Raingutter Regatta) that you do not have to build your vehicle from the scout kit. The boats are judge for speed, beauty and how unique they are. If you place in the top three in any of the categories, you get a ribbon to wear on your uniform. Joey and his ship, the *SS Candy, won 3 rd place for most unique. We constructed the ship from a 20 oz soda bottle and the sail is from the saide of a 3 liter bottle of soda. The ship and sail were decorated with Reese's Peanut Butter Cup wrappers and lollipop wrappers.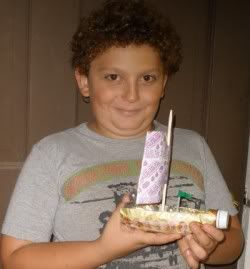 ****************************************
Any advice on how to find a good and trustworthy Jeweler? I can't wear my engagement ring right now because one of the prongs holding the diamond in is bent. I miss my bling.
*I voted for the Good Ship Lollipop but my suggestion got shot down.