Last week, I told you about the fabulous
cub scout camping trip
Joey and I went on. I also promised you I would show you everything we found this week. The highlight of the camping trip was our excursion to the
Aurora Fossil Museum
. Joey was so excited about getting to see everything in the museum and he was fantasizing about finding a really old shark tooth when we combed through the dirt/fossil/shark teeth pile from the phosphate mine. He especially wanted to find a
Megalodon
tooth. I told him that while it was a great dream, the likelihood of finding one was slim to none. After all, a Megalodon tooth would be between 2 and 16 million years old. We found a ton of cool sharks teeth, some great pieces of coral, a few small fossils, and
one Megalodon tooth
! I guess I was wrong about us finding one. The amazing part is that it was right on top of the pile of stuff. I honestly didn't think it was a tooth until I picked it up and felt the serrated edges. Here are pics of all our goodies...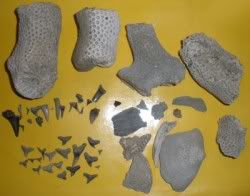 Joey's stuff(from top left, clockwise):
coral, some fossils, in lower left corner -
whole sharks teeth, partial sharks' teeth,


my goodies: partial sharks teeth at top
bottom left - Megalodon tooth,
bottom right - whole sharks' teeth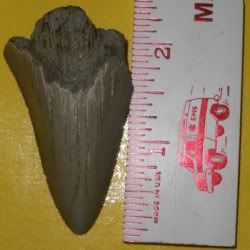 close up of the Megalodon tooth -
if the top wasn't broken off, the tooth
would probably be 4+ inches tall


a pic of a Megalodon jaw (adult male
and Great White shark jaw are
behind it for comparison)

Evidently, Megalodon teeth range from about 2 1/2 inches to 7+ inches tall. That means ours would be about midsized if it was intact. Joey has decided he would like it made into a necklace.
****************************************
To see what everyone else in class is bringing to
SHOW AND TELL
, take a trip to visit the
Miss Mel, Goddess of the Infertility Blogosphere
.