Hey y'all, please, please head over to my friend Jenn's blog,
Patience is a Virtue
, she needs some serious prayers right now
****************************************
Last weekend, Joey and I went on the first cub scout camping trip of the year. All pics are clickable for bigger views.
Pack 200 went camping and Camp Bonner which is right near the Pamlico Sound.
Friday evening, Joey and a few of his scout friends explored Camp Bonner. They checked out the lake, found deer tracks, played with the camp directors dogs, and played a complicated version of flashlight tag.
After breakfast on Saturday, the scouts and their families headed into the little community of Aurora. In Aurora, there is a fabulous little fossil museum and, near the museum, they have two large piles of dirt/gravel/etc from an old phosphate mine. These piles are rife with fossils, cool shells, and sharks teeth. Visitors are free to search as long as they want and keep whatever they find.
Come back next week to see the extremely cool things we found.
Joey and I had a wonderful time (even if he did refuse to smile for a picture). After lunch and another hour or two of fossil and shark teeth hunting, we headed back to camp. While I struck camp, packed our gear, and read a little bit, Joey was off to explore with his friends. Most people were staying Saturday night too but we wanted to head home to try and go to the NC Literary Festival on Sunday. Sadly, we missed the Literary Festival because Joey woke up with a harsh, hacking unproductive cough on Sunday morning.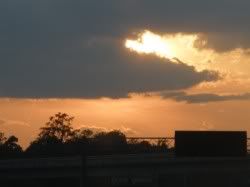 However, before we got home and Joey got sick, our wonderful camping trip was capped with these gorgeous views of the sunset.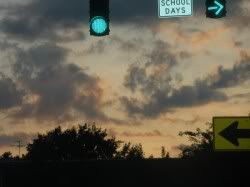 ****************************************
To see what everyone else in class is bringing to
SHOW AND TELL
, take a trip to visit the
Miss Mel, Goddess of the Infertility Blogosphere
.