I had no idea what I was going to Show and Tell tonight so I went searching. When I was looking for something for Show and Tell tonight, I hit a gold mine of pictures. I picked these two pictures from my college days for tonight's Show and Tell. You'll get to see the rest of the pics some other day.
me (age 20) and a few fellow pledges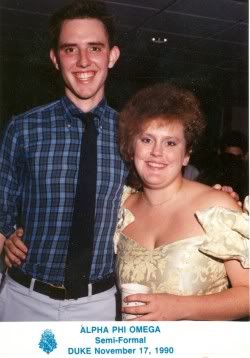 my APO big bro, Dave Kaelber, and me
this wonderful guy bought me a life
membership to celebrate my
becoming a

*

brother
When I was in college, I was in a fraternity. Yes, you read that right...a fraternity, not a sorority. I was a member of the Duke University Chapter of
Alpha Phi Omega
. APO is a co-ed service fraternity with an affiliation to the Boy Scouts of America.
The Lambda Nu Chapter at Duke
was founded in 1955 and, with the exception of 2 years at the end of the 70s, has been an active and thriving part of the community. What I love about my chapter is they actually began accepting women about 2 years before the National organization went co-ed. Lambda Nu circumvented the exclusion of women by submitting membership rosters with first initials and last names only. Unfortunately for me, I didn't discover APO until my senior year so I only had a short stint with them but I loved every minute of it...the service, the projects, and especially the fun and brotherhood.
BTW, I made the dress I am wearing in those pictures.
*
all members are called brothers whether they are male or female.
****************************************
To see what everyone else in class is bringing to
SHOW AND TELL
, take a trip to visit the
Miss Mel, Goddess of the Infertility Blogosphere
.