Welcome to Perfect Moment Monday sponsored by Lori over at
Write Mind Open Heart
(formerly Weebles Wobblog). Lori says that "
Perfect Moment Monday
is more about noticing a perfect moment than about creating one. Perfect moments can be momentous or ordinary or somewhere in between."
We had snow today. Now, for some of you, snow in December isn't a momentous occasion. Here in NC, not only does it rarely snow a significant amount in December, but it is never those gloriously wet fluffy flakes that pack together to make a perfect snowball. WE GOT THAT KIND OF SNOW. The snow started falling Christmas night and it took until about 4 am today for the snow to start covering the roads. We woke up to a winter wonderland and the snow was still falling.
Every time we get snow, the boys want to build a snowman and, every time, we manage to make a pile of snow that we can stick a face on but it isn't a real snowman and it leaves us vaguely unsatisfied. NOT THIS YEAR! This was the perfect snow for rolling snowballs across the yard and piling them into snowmen. I got to build not one, not two, but three fabulous snowmen. Even Gabe rallied long enough to join us outdoors and help on the snowmen for a little while. Not only did we get to have fun in the snow but each of my boys (even the teen) was happy to play in the snow with mom.
All these pics are clickable and
a bigger version will open in another window.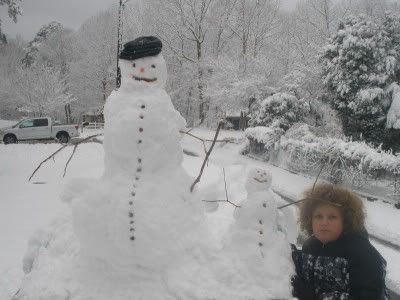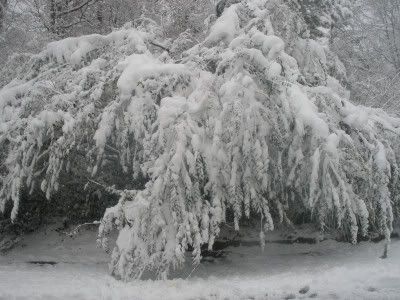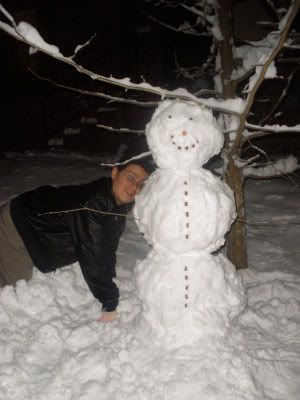 Go check out the other perfect moments at this week's
Perfect Moment Monday
on
Write Mind Open Heart
.