I'm sorry I've been so scarce these last few days. My schedule finally caught up with me and it's taken all my energy to not crash and burn.
The snow/bad weather day we had yesterday was a blessing in disguise. Sadly, we didn't get enough snow to even go out and play in it. However, not having to drive places gave me time to get a little bit of holiday baking done and gave me a chance to get Joey and Gabe to help me make teacher presents. The holiday baking was necessary because I was ever so brilliant and signed up to bring in a special Christmas snack for Gabe's preschool class. We made the candy from the
Wilton's Christmas Candy Mega Kit
. So Gabe could help, I didn't paint the candy into the molds. We just squeezed it in and made them all tri-colored. After Gabe went to bed, I made sugar cookie bars and mint chocolate chip bars.
The teacher's presents turned out excellently. I bought a set of clear glass Christmas ornaments. We popped the tops off the ornaments, squeezed 3 colors of paint into each one, and rotated them around until the paint completely covered the inside of each ornament. When they were completely painted, we drained out all the extra paint. We put two ornaments into a Christmas mug for each teacher.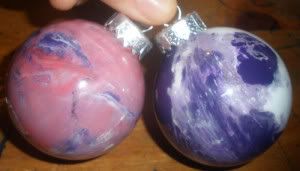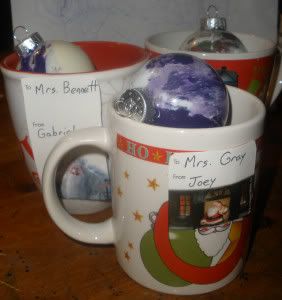 I also made some uber-cool paper ornaments but they are on their way to my ornament exchange partner so I'll show you them later.
Have y'all done any cool Christmas crafts or baking yet?